Bob Brown
22 July 2013
With 10-time winner Todd Haig in tow, Team Nordic leads the pack out of California's Long Beach Harbor for the start of the 65th annual Catalina Ski Race. Photos by Bob Brown/Media Direction
Any athlete will tell you that winning a championship is the crowning achievement to a sports career. And successfully defending that championship is even sweeter. So when you consider that American speed ski racer Todd Haig has now won the world's most challenging water ski race 11 times, the achievement deserves a few extra minutes of reflection.
Pre-race speculation was focused on Haig and his major competition, Peter Proctor of Australia. In the past four years, Haig and Proctor have dueled to a draw, each winning two overall Men's Open titles. In order for Haig to win his 11th crown, which would tie him for the most Catalina wins with the legendary Chuck Stearns, he would have to get past Proctor and a half dozen more world-ranked skiers to make history.For 65 consecutive years, water skiers from around the world have gathered for the Catalina Ski Race in Long Beach, Calif—a 62-mile open-ocean dash from the fantail of the Queen Mary to Avalon Harbor on Catalina Island and back. This year the starting grid consisted of 60 teams with skiers ranging in age from 73 to just-turned teenagers. Overcast skies and lumpy water conditions in the unpredictable channel awaited the well-conditioned contestants who came from as far away as Belgium, Australia, Spain, Denmark and England to challenge America's best.
Haig, towed by Randy Davis in the Team Nordic 47-foot V-bottom with twin Mercury Racing 1,200-hp engines made their intentions clear in the initial 2 miles of the race, leading the 60-boat field out of the inner Long Beach Harbor and through the Queens Gate breakwater opening with a 300 yard lead. Haig and Davis, who owns Nordic Boats in Lake Havasu City, Ariz., were the first team to the turn boat at the halfway mark with Team Warpath, a 47-foot Fountain with triple 1,000-hp BoostPowerUSA engines driven by Mike Avila, attempting to close the gap with Proctor in tow. READ MORE
65th Annual Catalina Ski Race Starts July 20
posted: 7/1/2013
LONG BEACH — Powerboaters and waterskiers from around the world will compete in the 65th annual Catalina Water Ski Race, July 20, hosted by Long Beach Boat and Ski Club.
The 62-mile challenge — with fast powerboats towing waterskiers from Long Beach to Avalon and back — will start at 8:53 a.m. between Island White and Island Grissom in Long Beach Harbor. There will be a split start, with 21-foot and smaller boats starting first, and larger boats up to 43 feet starting at 9 a.m.
Boats will tow skiers to Avalon's Descanso Beach before heading back to the finish line in Long Beach, off Queen Mary's bow.
There are 19 different classes for participants — ranging from novices to experts, and masters (age 60 or older) to juniors (age 15 or younger). – READ MORE
"Skiers Shine in 65th Annual Catalina Race"
by GotHalos Published on 07-22-2013 03:46 PM
It was a dark and foggy morning as the boats filed into position just off the Queen Mary in Long Beach, CA. Some 60 boats filled the entry list this year for the running of the 65th annual Catalina Ski Race.
Dubbed "The World's Greatest Water Ski Race" competitors come from all over the world to take part in the 62-mile round trip race. Completing the course in and of itself is a feat, yet these athletes choose to do so with unpredictable ocean swells, fishing/spectator boat traffic and the ever so mighty wake of the monster Catalina Express.
Just a few of the reasons this is one of the worlds toughest water ski races. The waters of the Pacific have been filled with skiers for the past few months training for this once a year race. The Maya hotel was booked to occupancy and spectators lined the rails of the Queen Mary. The anticipation was coming to an end.
The first flight of boats, 21 feet and under left the harbor around 9 a.m. nearly 15 minutes in front of the 21+ foot boats. Fans gathered at the stern of the famed Queen Mary for a glimpse of the field before taking off into the big blue. After all competitors safely and successfully headed out, the wait was on. Fans waited anxiously for the first sign of a return boat, with skier in tow. READ MORE
Watch "The World's Greatest Ski Race" From the Queen Mary
Not waterskiing to Catalina Island? You can still enjoy the fun, sans sea foam.
By Alysia Gray Painte |  Tuesday, Jul 16, 2013  |  Updated 6:57 PM PDT
Watch the start — and end — of the epic Catalina Ski Race from the Queen Mary on Saturday, July 20.
Waterskiing is a popular movie device — hi, "Freaky Friday" and high-jinx-y summer comedies — and the Go-Gos put it on the cover of one of the '80s iconic albums.
As comically as it is sometimes portrayed, however, waterskiing is a rigorous form of sport, and even someone gliding across a lake is giving their all in the strength and skill departments.
But the zenith of waterskiing and athletically giving one's all merges every year in the Catalina Ski Race, which is often billed as "The World's Greatest Ski Race." It's the 65-year-old, 62-mile ski-off that's set to run — er, ski — again on Saturday, July 20.
And the course? Oh, just Long Beach to Catalina Island and back. That's all. READ MORE
PROCTOR WINS SECOND CATALINA SKI RACE
Australia's hottest water ski racer, Peter Proctor, went wire to wire this morning to earn his second career overall victory at the 64th Annual Catalina Water Ski Race in Long Beach, Calif. The 24-year-old bested a strong field of Men's Open competitors including ten-time Catalina champ, Todd Haig, 33, from the United States.
The 62-mile round trip race from the stern of the Queen Mary to Avalon Harbor on Catalina Island and return was done at a near record-setting pace of just under 51 minutes for the winner who was towed by Mike Avila's 47-foot Fountain offshore power boat powered by triple 1,000-hp engines from Boostpower Marine in Newbury Park, Calif. READ MORE
WATER SKIERS RACE TO CATALINA AND BACK
By Jonathan Van Dyke | Gazettes
For many, water skiing might be a sport best tried in jest, or at least at moderate speeds in calm waters — not so much for the competitors taking to Long Beach waters this weekend.
The Parker Oil Products Catalina Ski Race will take place from 8 a.m. to 3 p.m. Saturday, July 21. Officials said the best viewing locations for the start and finish of the race will be at Cherry Beach or near the Queen Mary.
This will be the 64th Catalina Ski Race. There will be about 70 entries from across the country and world. Competitors will be as young as 12 and as old as 60 — but they are all fairly seasoned, organizers said.
"All of these competitors compete regularly, and nearly year-round, in their own part of the country or their country of origin, to prepare for this race each year," said John Krieger, commodore of the Long Beach Boat and Ski Club. "This race has notoriety because of the number of participants and it is the only open ocean ski race regularly scheduled anywhere in the world. READ MORE
CATALINA WATER SKI RACE
WATER SKI TO AVALON AND BACK? A BUNCH OF PEOPLE ARE DOING JUST THAT.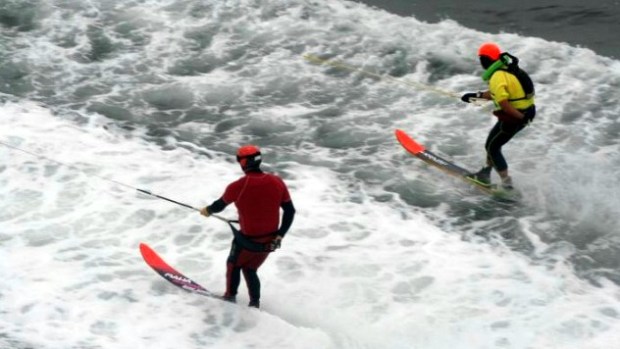 62 MILES: When you see scenes from friends water-skiing on a lake, the setting is, well, finite. Over there, on that shore? The boat house. In the other direction? There's the dock. A fun and active day can be had on skis out on the lake, of course, but nobody on a small body of water is going to head for more than a straight mile or two in any one direction. So, what can the enthusiastic water-skier do who wants to go in one constant direction for several miles? What is the answer for someone who wants to water-ski all the way from the mainland to an island? Why we're glad you asked. It's the 63-year-old Catalina Water Ski Race, which has a beautifully clear summary: Water-ski behind a boat from Long Beach to Avalon and then back. READ MORE
PRESTIGE AND WACKINESS AT CATALINA WATER SKI RACE
THE LONG BEACH-TO-AVALON WATER SKI RACE RUNS FOR THE 63RD TIME. IN ALL THOSE YEARS, THIS CONTEST HAS BUILT A SERIOUS FOLLOWING AND ATTRACTED GLOBAL COMPETITION.
Chris Erskine | LA TIMES
America's silkiest super highway, the stretch of sea between Long Bench and Avalon, was full of skiers Saturday as the Catalina Water Ski Race went off for the 63rd time. It's the zaniest start in sports: Speedboats race in with flags announcing the event is about to begin, then a start boat sends up a flare or two.
All it's lacking is Rodney Dangerfield dropping his anchor into your dinghy.
Part tanning party, part grueling endurance test, this prestigious ski race is one of those "why-do-they-do-that-again?" sporting events that just gets to be habit and wiggles its way into local lore.
This year, Captain America was there, of course, as was Mr. Incredible.
Most incredible of all, though, was this skier Todd Haig, a California kid who skips across that choppy channel like a moonstone. Broke the course record on Saturday, in good though not ideal conditions, completing the ornery task six seconds faster than ever before.
"Today, I was a little Jell-O-y out of the gate, just nerves," Haig explained. "Then I finally settled down." READ MORE
CATALINA SKI RACE
2011 63rd Annual Catalina Island Ski Race, the greatest water ski race in the World! Water skiers from around the globe come once a year to California determined to finish the 62 statute-mile race. Being a part of this great race, attracts the world's greatest skiers. Long Beach to Catalina and back. READ MORE